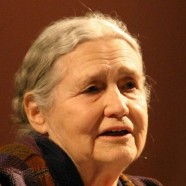 Nov

11
Tags
Related Posts
Share This
Doris Lessing
In September 2009 I was invited to deliver a paper at the annual Workshops in Political Theory held at Manchester Metropolitan University. My paper explored the "inner-space fiction" of Doris Lessing through the conceptual framework of the philosophy of solidarity (as developed by my colleague Professor Lawrence Wilde).
More content coming soon.
Thumbnail image by OpenDemocracy under a CC BY-SA license.