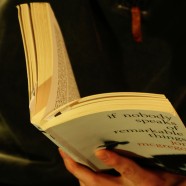 Jun

25
Tags
Related Posts
Share This
Jon McGregor
In February 2008 and February 2010 I interviewed the novelist Jon McGregor whose first novel, If Nobody Speaks of Remarkable Things (Bloomsbury 2002), had been shortlisted for the Man Booker Prize, the British Book Awards Newcomer of the Year, the Commonwealth Writers Prize and The Sunday Times Young Writer of the Year Award, and which was awarded the Betty Trask Award and the Somerset Maugham Award in 2003. Jon had recently published his second novel So Many Ways to Begin (Bloomsbury 2006) when I first met him at the pioneering Nottingham Writers Studio, and we met again shortly after the publication of his third novel, Even the Dogs (Bloomsbury 2010).
The full-length interviews were published in an article for the American journal Contemporary Literature, and a shorter interview was published in the New Statesman. Jon was also kind enough to mention these publications on his website.
Thumbnail image by PhotoGraham under a CC BY-NC-SA license.