Zamyatin Panel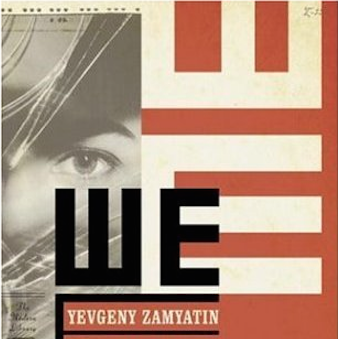 The annual conference of the European Utopian Studies Society took place this year at the University of Newcastle. Taking its theme as "The End of the City," the 2015 conference was dedicated to examining the function of the city in contemporary utopian thought. As Yevgeny Zamyatin wrote in his influential 1921 dystopian novel We, "Man ceased to be a wild animal only when he built the first wall," and the city continues to be figured in aesthetic and political thought as the arbiter of modern civilisation and technological progress. Zamyatin lived in Newcastle-upon-Tyne in 1916-17 where he worked as an engineer for the Russian navy, constructing ice-breakers in the city's shipyards.
In honour of this significant literary connection, the conference held a plenary panel on Zamyatin's life and work – and I was invited to participate. Also on the panel were: Professor Julie Curtis (University of Oxford) who recently published a biography, The Englishman from Lebedian: A Life of Evgeny Zamiatin (2013), as well as co-authoring a new Russian translation of We in 2011, based upon previously undiscovered manuscripts left behind by Zamyatin; the poet Professor Sean O'Brien (University of Newcastle), whose radio adaptation of We was broadcast on Radio 4; Professor Sherryl Vint (University of California, Riverside), author of Bodies of Tomorrow (2007), Animal Alterity (2010) and The Routledge Concise History of Science Fiction (2011); and Dr David Bell (University of Sheffield) who is completing a book titled Rethinking Utopia: Place, Power, Affect (Routledge, 2016).
My talk was titled "Blueprint Utopianism and Utopian Blueness" and offered a close reading of Zamyatin's seminal dystopian novel, We, drawing on the utopian philosophy of Ernst Bloch. The colour blue functions in the novel both to name the glassy architectural regularity of OneState and its excessively rationalized totalitarian regime, as well as the colour of resistance and utopian thinking. In Bloch's thinking, blueness recurs as an image of the preconscious impulse towards utopia. As Bloch writes in 1918 in Spirit of Utopia:
to find the right thing for whose sake it is worthy to live, to be organized, to have time: that is why we go, why we cut new, metaphysically constitutive paths, summon what is not there, build into the blue all around the edge of the world, and build ourselves into the blue, and there seek the true, the real, where the merely factual disappears (Bloch 2000: 248).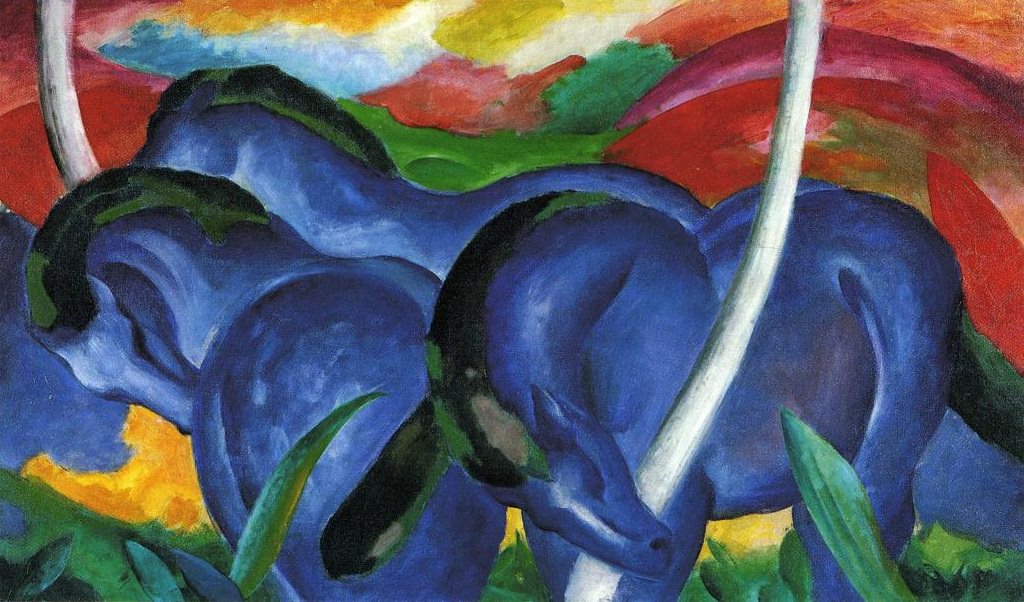 Franz Marc, The Larges Blue Horses (1911)
I also considered both Bloch and Zamyatin's engagement with Wassily Kandinsky's colour diagrams, as described in The Spiritual in Art (1912) – something which has not previously been noted in scholarship and which I will be developing as an academic article. The Blaue Reiter group, of which Franz Marc was a prominent member and Bloch a theoretician, was similarly preoccupied with the colour blue. For Marc and Kandinsky, blue represented a spiritual colour associated with longing and with death. These temporal connotations of the colour blue and its importance to Expressionist painting will therefore be something that I explore.
Click here to view the full conference programme.
Image by Père Ubu under a CC BY-NC license.