Share This
Videos & Podcasts
Here are a few recordings of invited lectures, talks and panel contributions that I've given over the past few years, as well as a couple of BBC broadcasts I've been involved with. You can also view these on my YouTube Channel.
I was invited to participate in a panel discussion as part of the LSE Literary Festival 2015, titled "Visions of Future Humans: Science Fiction and Human Enhancement." The panel consisted of Professor Adam Roberts (Royal Holloway), Dr Andres Sandberg (Future of Humanity Institute, Oxford) and Imre Bard who chaired the session. My short talk considered the human-robot boundary, outlining the early 20th century historical context for influential science fictions such as H. G. Wells' The War of the Worlds (1898), Karel Čapek's play Rossum's Universal Robots (1921) and Fritz Lang's Expressionist film Metropolis (1927). It then considers more contemporary cyborgs including recent films and TV shows such as Limitless, Her, Lucy, Fringe, and Continuum.
I was recently interviewed for a BBC One documentary about the life of H. G. Wells, titled 'Future Tense: The Story of H. G. Wells.' Broadcast on television on 16 September 2016, the documentary was part of a range of events celebrating the 150th anniversary of Wells' birth, including talks, an academic conference, guided walks through Woking and art projects themed around Wells' novels.
My involvement in the documentary came out of discussions with the producers about Wells' lasting influence in science fiction. My interview focussed specifically on two of his early scientific romances – The Time Machine (1895) and The War of the Worlds (1898) – two texts that I have been teaching at Birkbeck and thinking about over the past couple of years as I extend my research into science fiction. Other interviewees in the documentary include the film critic and broadcaster Kim Newman, British SF novelist Stephen Baxter, Professor Simon John James (author of Maps of Utopia: H. G. Wells, Modernity and the End of Culture [OUP, 2012]), the novelist Louisa Treger, Michael Sherborne (Wells' biographer), and the historian Dr Emelyne Godfrey.
This video is of a 20-minute talk I gave at the Hillingdon Literary Festival in November 2016. In this talk, I consider the emergence of utopia with Thomas More's coinage of Utopia in his 1516 text and its development in a number of significant and slippery Renaissance texts, such as Tommaso Campanella's The City of the Sun (1602), Francis Bacon's New Atlantis (1627), and Margaret Cavendish's The Blazing World (1666). I then consider the move from eutopia (no place) to euchronia (no time) in the futuristic visions of the late 19th-century utopians, such as William Morris, Edward Bellamy, Samuel Butler and, a little later on, Charlotte Perkins Gilman in her remarkable self-published narrative Herland (1915). I briefly consider the anti-utopian backlash and the rise of the dystopian imaginary in the 1930s-50s before returning to the 1960s social movements of feminism, the environmental movement and the New Left; all of which informed what Tom Moylan calls the "critical utopias" by writers like Marge Piercy, Joanna Russ and Ursula K. Le Guin. The talk closes with a consideration of what the utopian imaginary looks like in contemporary 21st-century novels, particularly with respect to utopia's entanglement with apocalypticism – briefly discussing writers such as Joanna Kavenna, David Mitchell, Emily St. John Mandel, Jim Crace and Maggie Gee.
This was an invited talk I gave at Senate House, University of London in July 2016 titled "Transforming Scholarship in the Digital Environment" – as part of the Social Scholar series.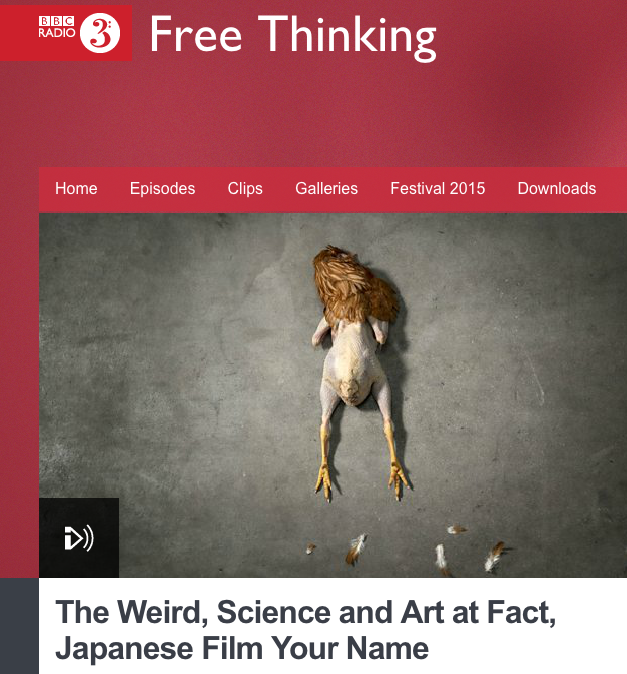 This discussion of the literary Weird was broadcast on BBC Radio 3's late-night programme "Free Thinking". Since co-editing an essay collection on China Miéville, China Miéville: Critical Essays (Gylphi, 2015), I've been thinking a bit more about the New Weird movement in the early 2000s and its relationship to the Golden Age of literary weird (which S. T. Joshi defines as c.1880-1940) as well as whatever we are calling 21st-century Weird fiction in the 2010s (Miéville himself has recently been using the term "post-Weird"). Click on the image above to listen to the programme.
This podcast was made at a panel discussion and screening of Richard Linklater's 2006 film adaptation of Philip K. Dick's classic novel, A Scanner Darkly (1977). The event was organised by the Vasari Research Centre for Art & Technology as part of their Digital Animation Series running in 2016-17. The film screening was introduced with a 45 minute panel discussion chaired by Dr Joel McKim (Lecturer in Media & Cultural Studies, Birkbeck) and I was joined by Dr James Burton (Lecturer in Cultural Studies & Cultural History, Goldsmiths). Click on the image above to listen to the programme.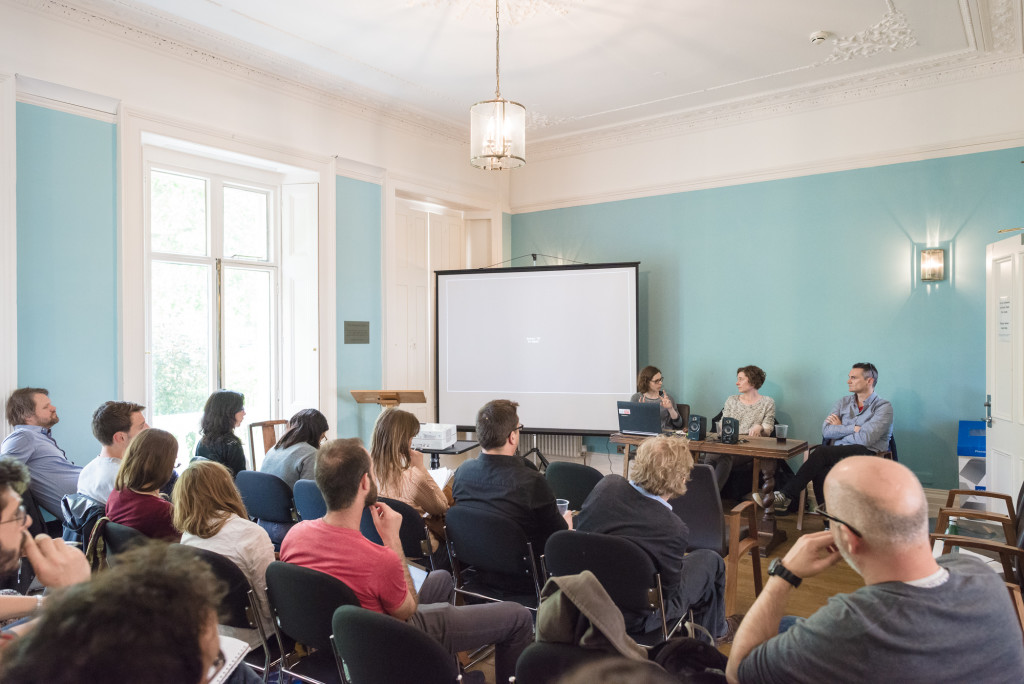 As part of Birkbeck's Arts Week, I organised a panel on "Environmental Futures: Oil, Ecology, Petrocultures" in May 2015. The panel consisted of myself, Dr Graeme MacDonald, Associate Professor of English & Comparative Literary Studies at the University of Warwick, Dr Jennifer Gabrys, Reader in Sociology at Goldsmiths and Principal Investigator on a European Research Council funded project "Citizen Sensing and Environmental Practice: Assessing Participatory Engagements with Environments through Sensor Technologies," which investigates citizen participation in monitoring air pollution at fracking sites. The panel discussion was followed by a poetry reading by Michael McKimm from his recent collection, Fossil Sunshine (Worple Press, 2013). Michael's research in writing this collection was funded by Arts Council England, which allowed him to work with geologists and earth scientists investigating climate change and the oil industry.
Click on the image above to listen to podcast recordings of all of the talks and the poetry reading.